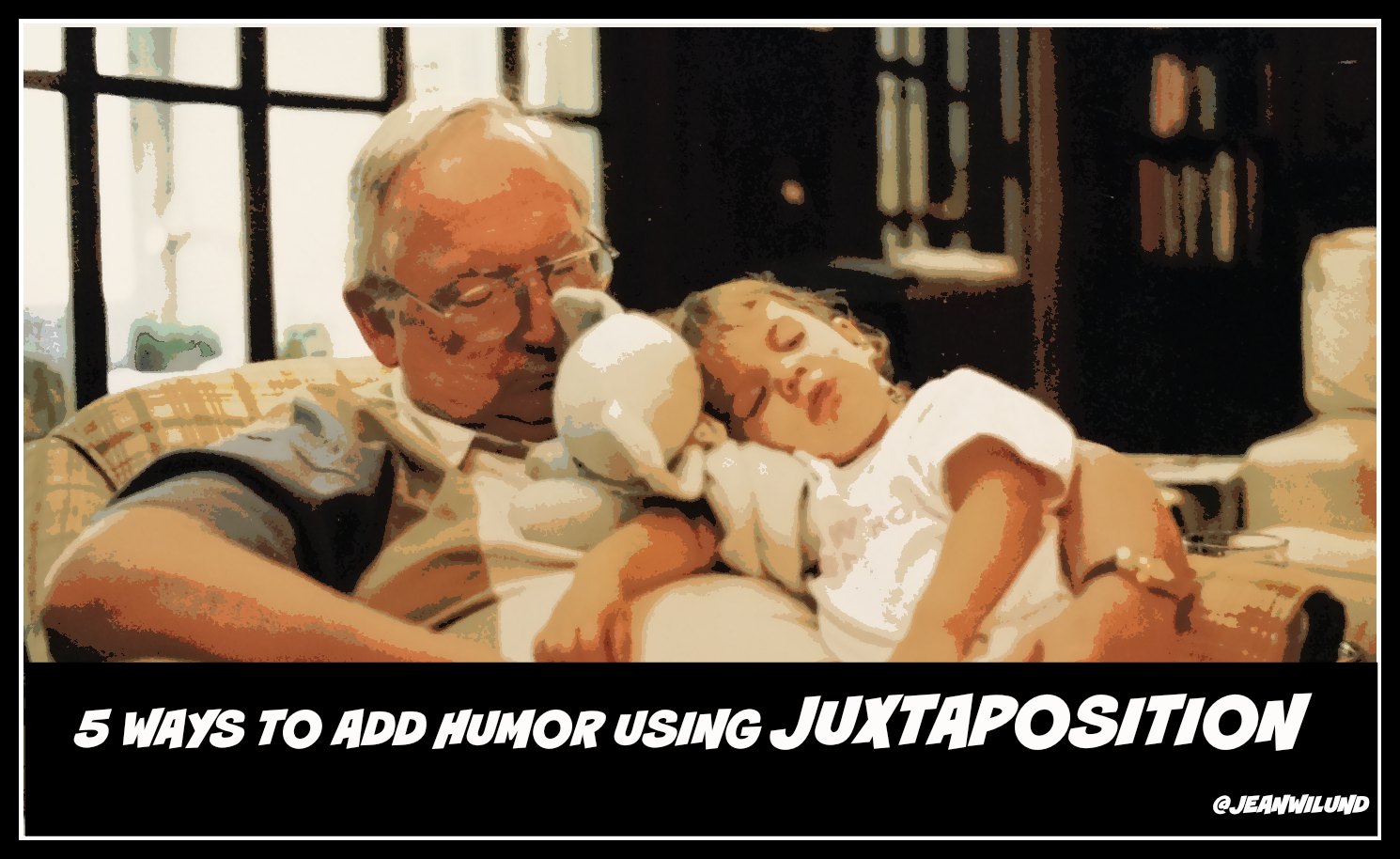 One of these things is not like the other. One of these things just doesn't belong . . .
Perhaps that should be the theme song for the useful literary device called juxtaposition.
Juxtaposition — positioning two or more characters, ideas, objects, or places beside each other in order to draw comparisons and contrasts — and for our purposes, a laugh.
Regardless of what genre you're writing, juxtaposition is a powerful tool, especially when you want to add a touch of humor.
Below are five ways juxtaposition can add humor to your writing:
1. Juxtaposition Provides an Unexpected Laugh
A non-fiction author may write about a serious subject, but depending on the topic, he may still wish to add humor. (See How Humor Helps When Writing About Sensitive Topics.)
Juxtaposition is a great way to inject humor and make any statement more memorable.
I read a poem recently by an unknown author. One line remains stuck in my head like the Nationwide theme hum by Peyton Manning, except I like this line: 
I thoroughly hate loving you.
What a perfect juxtaposition. Love and hate.
2. Juxtaposition Creates Interesting Conflict
Without conflict, there's no story.
Novels, movies, and plays often feature lead characters with opposite attributes or personalities in order to create interesting conflict.
Consider the 1970's TV series The Odd Couple.
The juxtaposition of the fussy, neat freak Felix Unger with his apathetic, sloppy roommate Oscar Madison created five seasons of TV fun and plenty of awards.
Watch the following opening theme song for The Odd Couple's humorous juxtapositions:
3. Juxtaposition Offers Comedic Relief
Placing two opposite characters together creates an effective straight man/comedic relief duo. 
In the comedy What About Bob? Richard Dreyfus plays Dr. Leo Marvin, a successful, put-together psychiatrist who finds himself thrown together with Bill Murray's character Bob, a neurotic, lovable psych patient.
By the end of the movie, these juxtaposed characters flip personalities through a series of hilarious conflicts brought on by their juxtaposition.
Throughout the movie Bill Murray's character offers the viewers comedic relief from Dr. Marvin's intense personality.
In the following scene, Bob, who's crashed the Marvin's summer vacation, has just upstaged Dr. Marvin in his national TV interview about his new book. Bob winds up stealing the show, bringing Dr. Marvin closer to a neurotic breakdown.  
4. Juxtaposition Creates Tender Moments
When something strong is placed next to something decidedly weaker, tender, yet comedic, moments can arise.
Consider the movie Up.
A steadfast, heartbroken, grumpy old man finds himself stuck high up in the air with an eager, cheerful young wilderness explorer set on earning his Assisting the Elderly badge.
Their journey warms your heart even as you're laughing due to it's beautiful use of juxtaposition.
5. Juxtaposition Sets a Memory Tag
The jarring effect of juxtaposition can tag an object, word, or person in the reader's memory that might have gone otherwise unnoticed. This enables the author to reveal its significance later with little concern that the audience won't remember it.
In the movie We Bought a Zoo, Matt Damon's character Benjamin Mee, who knows nothing about zoos, buys one on a whim. That's one juxtaposition that creates many humorous moments, but it's not the memory tag.
In the following scene, the screenwriter creates a memory tag.
The zoo keeper Kelly Foster (played by Scarlett Johansson) asks Benjamin a serious question to which he juxtaposes a seemingly flippant response.
It evokes a laugh, but it's not until the end of the movie that the viewer realizes the actual seriousness of Benjamin's earlier response — and why he gave Kelly that knowing smile. I'm not going to give it away. Watch the movie. It's your homework.
Almost all of my examples have been from TV or movies. I thought it would be easier to show you its effective use than to tell you about it, but its use in books in no less powerful.
What about you? What are some of the best or worst juxtapositions you've noticed in books or movies?
Fortunately, juxtaposition is easier to use than it is to spell.
Five Ways to Add #Humor to Your Writing Using Juxtaposition #amwriting #author Click To Tweet